Visiting Wuppertal: tips for a day trip
If you're thinking of a day trip to Wuppertal you might be thinking along the same lines as I was: sure, it'll be fun to check out the Schwebebahn, but what else can I do to fill a day in Wuppertal? How interesting can a city best-known for its mode of transport be?
Well, let me tell you that Wuppertal is awesome. I loved it and I genuinely had the best day discovering it.
But before I go into a run-down of how we spent our day in Wuppertal in March 2022, let me first give you a background to the city of Wuppertal and its famous transport system.
---
Some background on Wuppertal
Primarily industrial for most of its history, I think it's fair to say that Wuppertal doesn't necessarily have the best modern day reputation. In fact, before visiting, I passed through on the train plenty of times and my resounding memory was of a huge number of industrial buildings on the outskirts. But Wuppertal is much more interesting than just a former industrial hub.
Interestingly, Wuppertal only came into existence in 1930, when five separate towns were joined together to form a new city, named "Wupper Valley". This is where the city gets its strange layout from: Wuppertal is a very long and pluri-centric city, sitting between various hills along the river it was named for.
From this fairly unorthodox founding comes two things the city is best known for (to those who have actually heard of it before, let's be honest):
The Schwebebahn: this ground-breaking suspension railway was opened in 1901 in order to link these five separate towns together, using the conveniently-located Wupper river
The greenest city in Germany: Wuppertal claims to be the greenest city in Germany, thanks to its many peaks and hills; supposedly nowhere in the city is more than 10 minutes from a green space.
Armed with a bit of context, let's jump in to how we spent our daytrip to Wuppertal.
For more ideas on day trips in this region, click here: The best castles near Cologne for a day trip
---
The symbol of the city: the Schwebebahn
Arriving in Wuppertal by train and the first thing you'll notice is the snazzy new train station foyer and the most futuristic Primark I've ever seen. This area immediately in front of the Hauptbahnhof (main station) has been recently redeveloped and is looking very shiny, if a bit empty.
Handily, just a few meters away, you'll find the tourist information. This is probably the best place to demonstrate just what the Schwebebahn means for Wuppertal: it truly is the symbol of the city. And as such you'll find it on postcards, magnets and some other prints.
But you'll also find children's books about the suspension railway (adorably named Schwuppi). And also Schwebebahn liqueur. And Schwebebahn sweets.
I feel like it's worth a reminder at this point that the Schwebebahn is a mode of public transport. But the status of this system as totally unique in Germany and the oldest of its kind worldwide has led to it becoming a defining symbol of the city that endures to this day. (For fun, check out this Wikipedia article on suspension railways, which shows there are fewer than 10 of this type operating worldwide today, with Wuppertal's remaining the second longest.)
Unbelievable but true: in 1950, a local circus company organised a publicity stunt by bringing a baby elephant onto the Schwebebahn. Unsurprisingly, the elephant fell out of the carriage and landed in the river below. She survived with only minor injuries and was christened Tuffi (meaning 'waterdive' in Italian) and today has her own share of memorabilia, a mural, and a plaque dedicated to her adventure. I have a magnet of her.
(Credit to Pulped Travel for this great reel of the railway in action!)
Things to do in Wuppertal: riding the suspension railway
What's the first thing we did during our day trip to Wuppertal? I'm sure you'll be shocked to hear that we rode the suspension railway. We got the Schwebebahn to the end of the line (Oberbarmen Bahnhof) and travelled back again. For the best views, try and get a seat at the back! An Einzelticket costs €3.10 and is valid for 90 minutes.
Visiting the Hardt-Anlagen
Ok, ok enough with the Schwebebahn now; after our short jaunt, we got off Landgericht and walked up the hill to the sprawling Hardt-Anlagen, one of the city's most central green space. Situated on the top of Wuppertal's many hills, the park takes a bit of effort to reach if you're blessed with the same beautiful sunny weather we had, it is totally worth it.
The park has a botanic garden with a nice pretty tower, another brick tower named after Bismarck (I'm not sure why) and the lovely little Café Elise that does very nice cakes. Despite it being early March, we indulged in a lovely post-cake nap in the sun which was practically spiritual.
Central Wuppertal and Elberfeld
From the Hardt, it's a nice walk back down into the centre of the city. This area is Elberfeld and is where you'll find the highest concentration of restaurants, shops and bars. On the day of our visit, the city centre was absolutely rammed.
Skirting through the shopping streets, we were looking to find our way to the Nordstadt, where I had read there is a high concentration of turn-of-the-century villas (a rarity in a region that was bombed so heavily during the war).
On our way, we found a skatepark that didn't have the vibe we were looking for but still had some cool streetart.
The Altbaus of Wuppertal
We then found a network of streets full of Altbaus (basically meaning beautiful old houses). This wasn't the area of villas we were originally looking for, but it was such a beautiful neighbourhood, we grabbed a couple of beers and walked around it anyway. Cologne is so devoid of these older buildings laden with frescoes and original brickwork that it really felt like stumbling upon some sort of hidden utopia. This was mostly located around Marienstraße.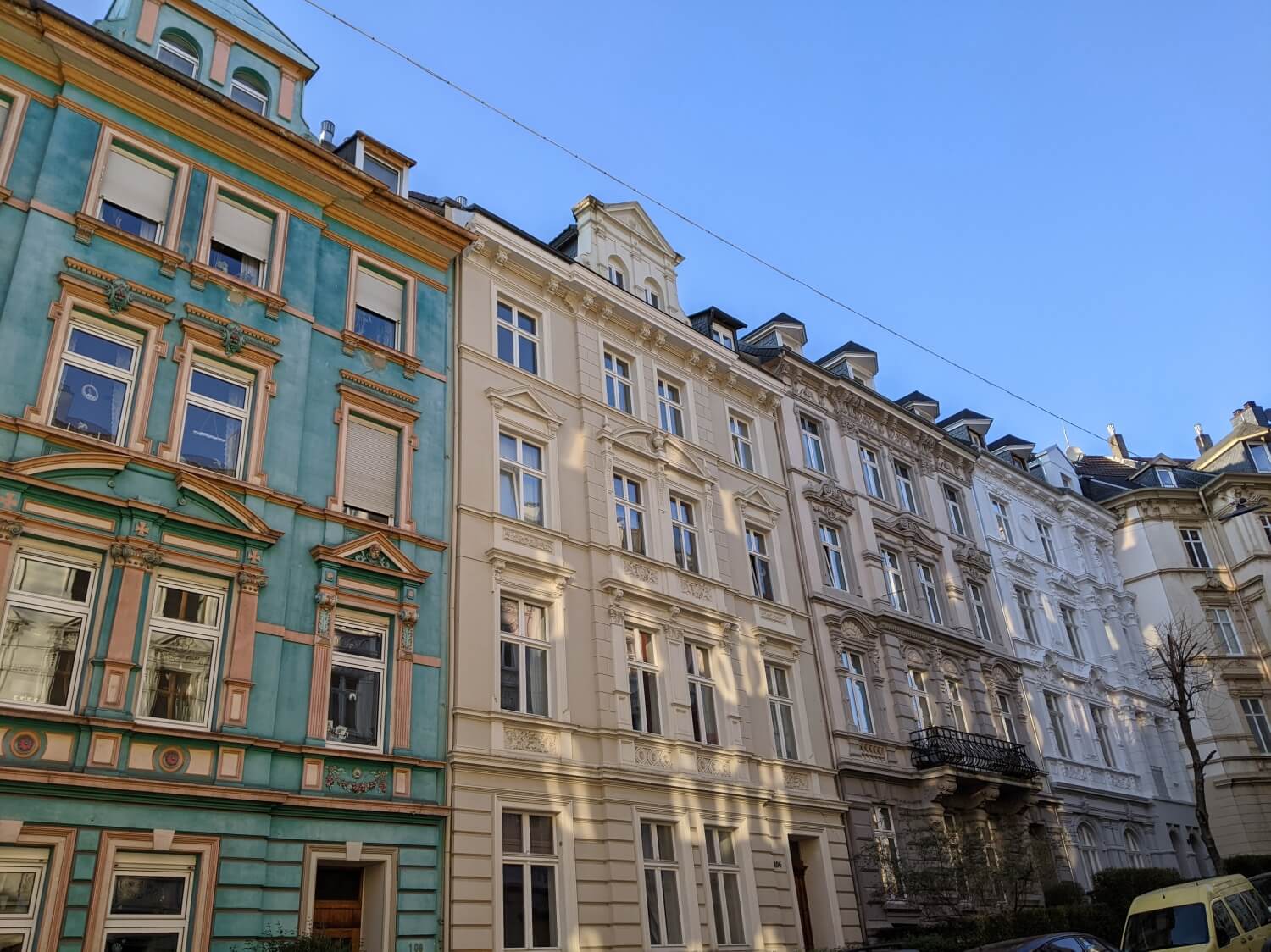 Luise Bar & Café and the Luisenviertel
Heading downhill again to Elberfeld (Wuppertal is so hilly!), we headed to Luisenviertel (Luisen quarter). This area is basically made up of two parallel streets (Luisenstraße and Friedrich-Ebert-Straße) and has a lot of nice bars and restaurants. On a chilly March weekend, I can't say much about the general atmosphere, but we certainly had a really nice meal at Katzengold, which we were lucky to get a table at.
After that, we headed to a bar along the street which we both absolutely loved: Luise Bar & Café. The place had a super chilled vibe and, although we might have been reading too much into the pride window sticker, it seemed to be a local LGBT hangout. We had many, many drinks here just soaking up the atmosphere and planning which mansion we would live in when we inevitably moved to Wuppertal.
From Luisenviertel, we got the Schwebebahn back to the central station and jumped on the train home. All in all, I had genuinely a fantastic day exploring the city and I would fully recommend a day trip to Wuppertal from Cologne to anyone.
For my next day trip to Wuppertal (aka why I have to go back)
Just in case it wasn't clear enough: I really, really enjoyed my day trip to Wuppertal. BUT I am also aware that we didn't cover everything to see in the city – in fact, there is still a lot more that I have on my list to do.
That list includes (but is not limited to):
Exploring the Nordbahntrasse, a former railway line that's been converted into a cycle path and has great views of the city from its many viaducts.
Getting a photo of the Lego bridge under the railway line
Getting the bus or train out to Beyenburger Stausee (the Beyenburg reservoir) for some Instagram-worthy hiking
The Wuppertal zoo is also meant to be very good (although honestly I am not a big zoo person)
The Bergische Museumsbahnen historic tramway because I am a very big train person
Getting from Cologne to Wuppertal
The easiest way to get to Wuppertal from Cologne is the RB48 (the Rhein-Wupper Express) which takes around 40 minutes or the RE7, which takes around 30 minutes. As these are both regional trains, the fare is covered by a range of different group tickets or offers like the €49 monthly ticket. An adult single should cost around €15 one-way. The RE7 runs once per hour and the RB48 twice per hour.
The InterCity or InterCity Express also run between Cologne and Wuppertal (as we discovered when train delays impacting our journey home) but prices vary.
So: have I convinced you to visit Wuppertal?
Comment below!
Related
Source link